A Botanical Wonder
Words by: Catriona Ross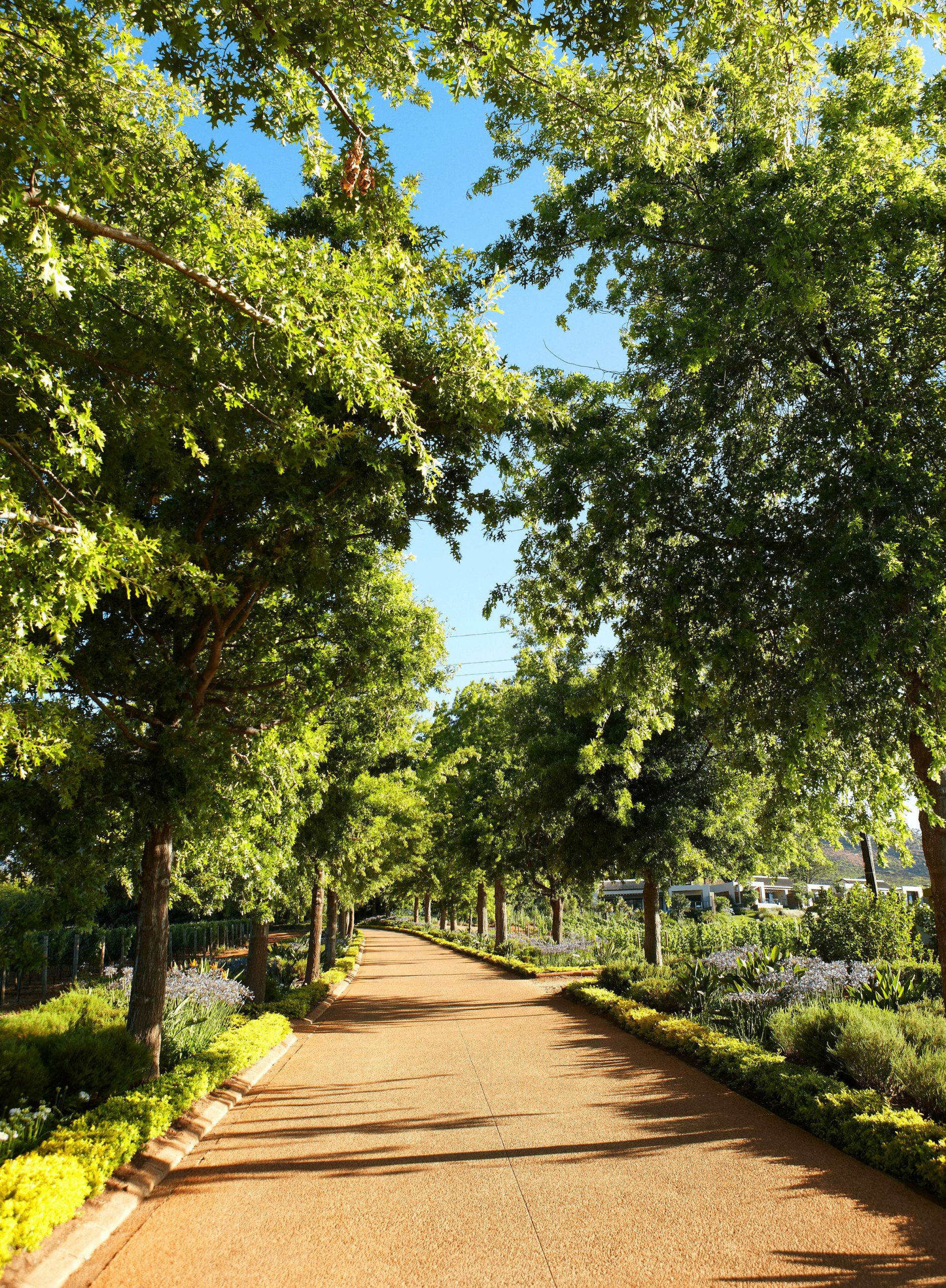 A spectacular sight rewards those who drive up the Helshoogte Pass from Stellenbosch. Marking the entrance to Delaire Graff Estate is a vast stone amphitheatre, radiant with layered colour and foliage: leaves shimmer, sunlight pours through gold and amber petals, and a regal three-ton sandstone head by sculptor Anton Smit gazes out across the Banghoek Valley.
As part of Laurence Graff's vision to turn the Estate into South Africa's leading premium wine, hospitality and art destination, he brought in the country's foremost landscape artist, Keith Kirsten, to create an authentic Western Cape garden that would provide eye-catching colour year-round. The garden was designed to provide a living backdrop to the Graff art collection on the grounds, showcasing South African sculpture by artists such as Deborah Bell, Dylan Lewis and Anton Smit.
Kirsten is well known internationally for his designs. His many books, public appearances and lectures are enhanced by his effusive personality and passion for anything with roots. Sipping a crisp Delaire Graff Sauvignon Blanc in the shade of pin oak trees on the restaurant terrace, he expounds upon his love of gardening. "It's nature: it's that bud opening; it's seeing the Crepuscule roses growing along the wall at the entrance to Delaire Graff Estate. When I drove in this morning, that whole wall of apricot colour put a lilt in my step. It's everything, from the changing seasons to the smell of the lawn being cut. Plants and flowers: there's nothing like them."
Kirsten leans towards a relaxed gardening style, often making use of indigenous plants, always being water-wise, and planting to suit the space. This is why Delaire Graff Estate's assignment set his heart racing; unlike some local wine estates, where whitewashed Cape Dutch manor houses pair well with muted gardens of Iceberg roses and hydrangeas, Delaire Graff Estate's contemporary architecture allowed Kirsten a refreshing freedom.
In came Madiba hybrid king proteas, intense yellow Mandela's Gold Strelitzias (Bird of Paradise), mature cycads and a cluster of statuesque aloes to give a burst of winter colour at the entrance to the Lodges & Spa. Under-appreciated South African plants, including restio grasses, cabbage trees and the vibrant coral tree, were planted around the car parks and entrance to the Estate and winery. More than 350 varieties of indigenous plants populate the garden, tended to by a team of 11 gardeners and a senior horticulturalist.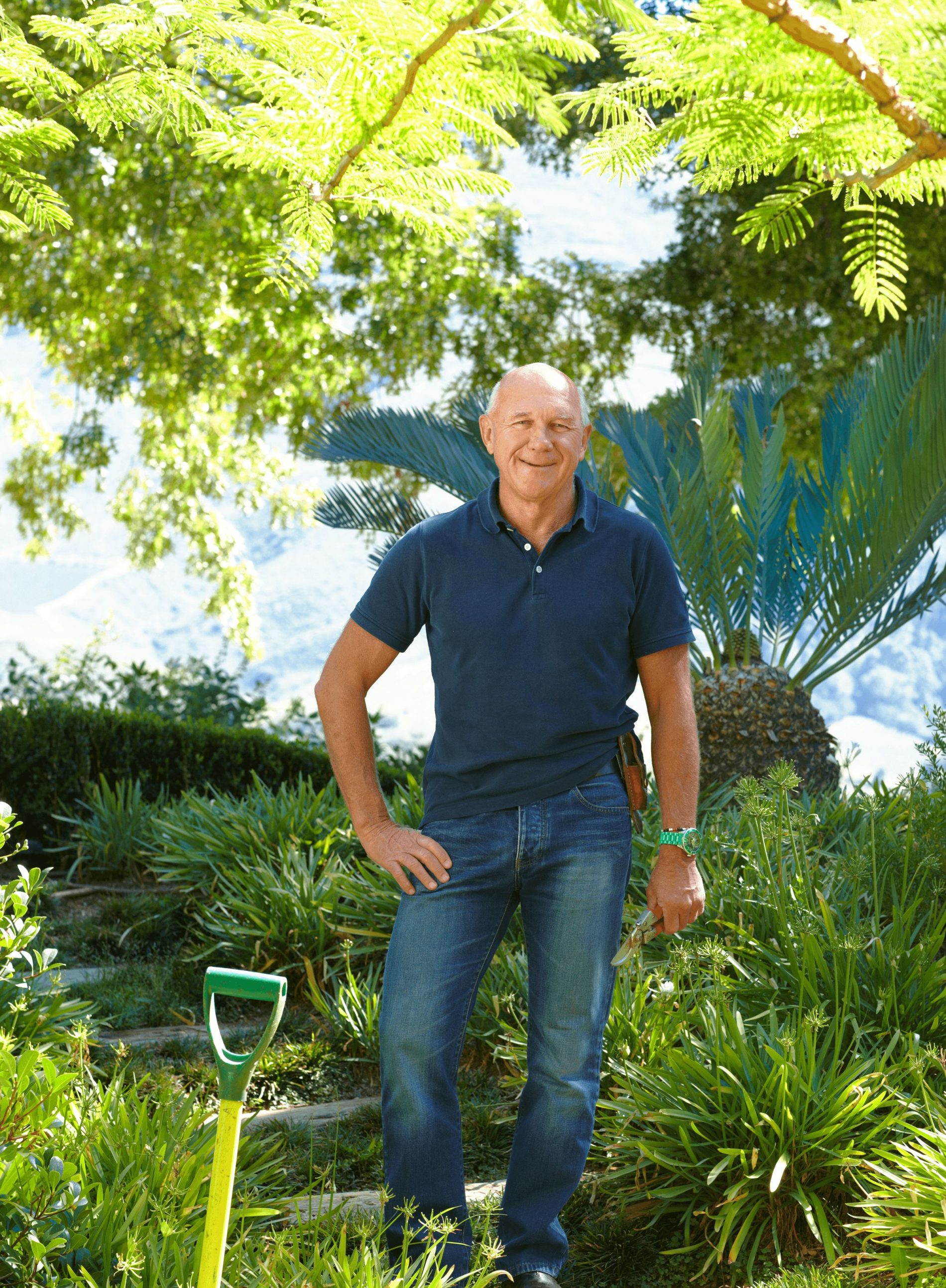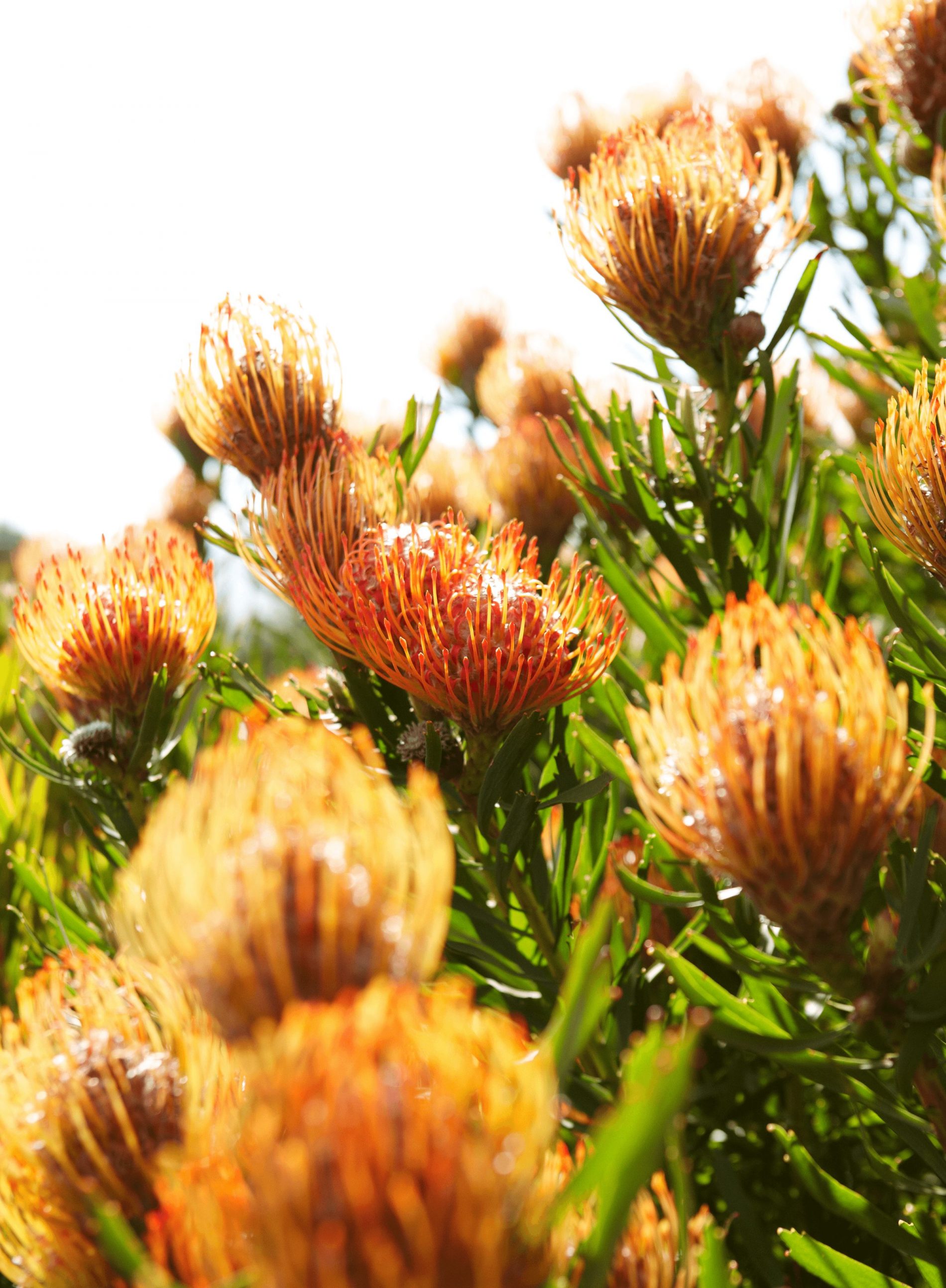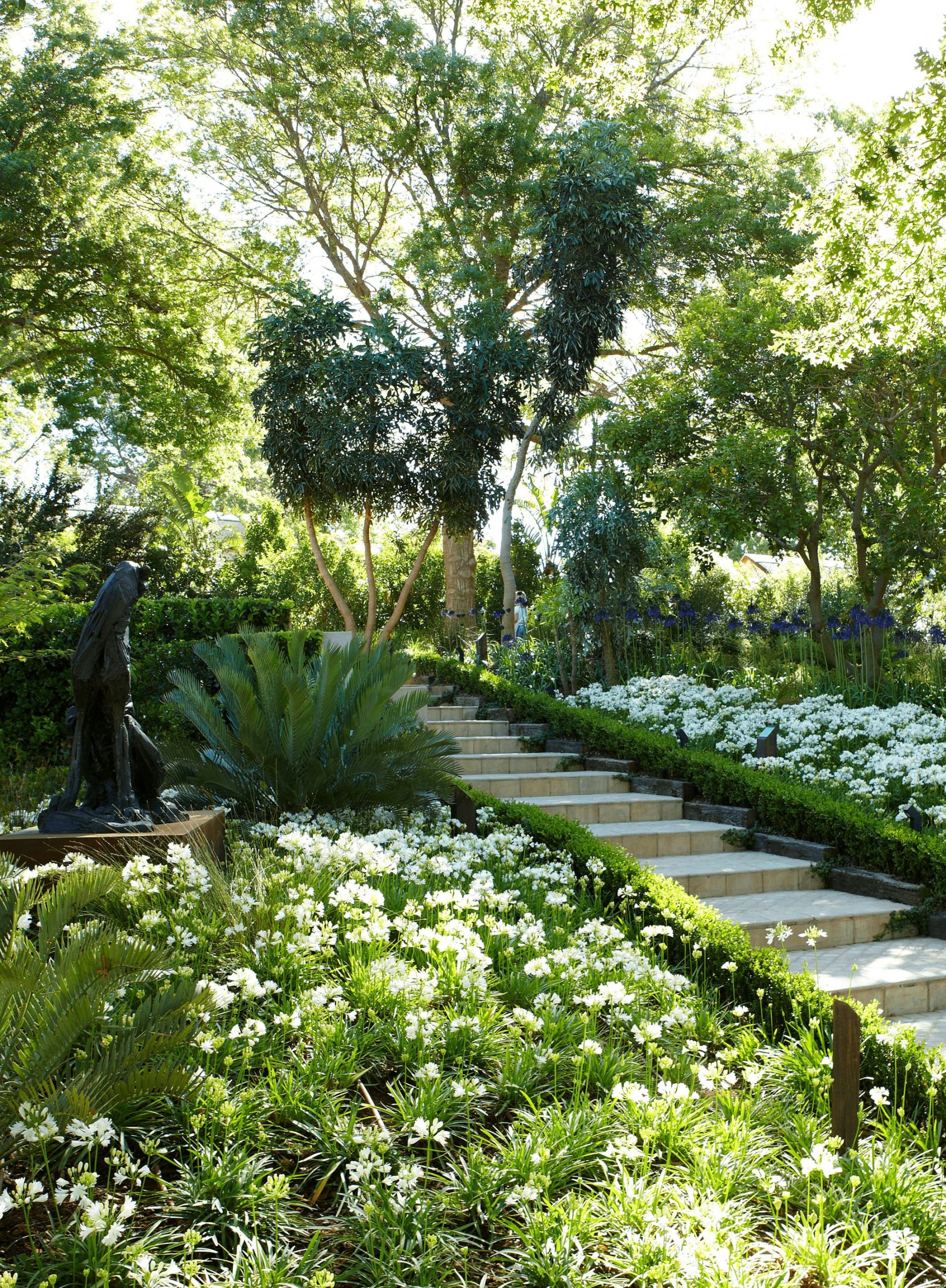 "Laurence Graff is a man of exceptional detail," explains Keith. "He passionately wanted to create a fantastic garden and design experience."
For the team at Keith Kirsten Horticulture International, including well known designer Raymond Hudson, designing and replanting the site for the Estate's official opening in June 2009 was a three-year process. Despite delays due to one of the wettest winters in the region, Delaire Graff Restaurant and Wine Lounge opened in July 2009, allowing diners to enjoy sumptuous views of landscaped gardens, undulating vineyards and olive groves stretching to the Simonsberg and Groot Drakenstein Mountains.
Structure, particularly in the form of hedging, was incorporated to balance Kirsten's preference for wilder, flamboyant gardens. In the gardens of the Lodges and Spa, terracing, hedging and mirror imaging are used to create a more controlled, and therefore more tranquil, atmosphere. "Laurence Graff is a man of exceptional detail," explains Kirsten. "He passionately wanted to create a fantastic garden and design experience, but he preferred a more manicured, formal look. So we redid the whole restaurant entrance one weekend while he was here. We pulled up plants and replanted to get it just right, and it has matured well."
A patron of the South African National Water Conservation campaign, Kirsten stresses the importance of environmentally conscious gardening. With semidrought conditions already a reality in the Cape, many of the Estate's water sapping alien bluegum trees were removed. "We removed dozens of huge Eucalyptus trees that used to line the old road over the mountain pass, which is now the main entrance to Delaire Graff Estate," explains Kirsten. "They were old, dangerous and not at all water-wise or in keeping with our design philosophy. We could never have planted a garden like this under them; they would have robbed the soil. The results now speak for themselves."
The Estate also used to have an avenue of neglected Pin Oak Trees along the drive, and a further avenue of trees in front of the restaurant. The original oaks were retained; a tree surgeon resurrected them, pruning and cleaning each tree, branch by branch. Since sprayer irrigation causes substantial water loss in the Cape's constant wind, a drip irrigation system was installed to ensure there would be minimal water wastage.
"I'm very against planting anything that is unsuitable or ecologically incorrect," Kirsten states. He is, however, a fan of happy horticultural marriages – which meant, in this case, importing non-invasive plants from the Mediterranean, Australia and California, and settling them beside similar indigenous plants. In the entrance amphitheatre, Mediterranean cypresses, olive trees, bright bougainvilleas and purple statice intermingle with many of the fynbos species seen in Kirstenbosch National Botanical Garden: strelitzias, pincushions, leucodendrons, watsonias, wild garlic and the fragrant shrub, Hottentots kooigoed. And there's always a place for roses: along the driveway a wall cascades with the soft apricot coloured climbing rose, the Crepuscule.
This holistic philosophy permeates every aspect of Delaire Graff Estate, even with food. Fresh produce, fertilised by the on-site wormery, is picked daily from the Estate's herb, salad and vegetable garden. The lush surrounds also encourage biodiversity. 'You'll see sunbirds on those pincushions, and birds' nests in the protection of the walls covered by Virginia creeper,' Kirsten notes proudly. Indeed, it seems as though these natural jewels have found the perfect setting.