Gem-infused scientific skincare
with Knesko
With the arrival of Autumn in the Stellenbosch Wine Route, we gaze out over the vines as the leaves turn from emerald to gold. This is a time of year is dedicated to restoration and preparation.
The first stage of skincare in Autumn is to replenish lost moisture and treat sun-damaged skin after the sunshine-filled months of Summer. To restore your skin to its ultimate equilibrium, it is important to nourish it, fight against pigmentation, promote skin renewal and target inflammation. The second stage is to prepare your skin for Winter weather. Cold temperatures, harsh winds, and dry air can destroy your skin's moisture leaving it dry and damaged. With our changing diets from fresh salads to comforting carbs, our skin fights both an external and internal battle during these colder months. Preparation in Autumn is key, but with so many new products on the market, it's hard to know what to use to achieve the best results.
At Delaire Graff Spa, we have a results-driven approach to beauty and skincare. Each treatment and product range is personally selected by Spa Manager, Hildegard Carstens, to rejuvenate the body, mind and spirit. Recently added to our range of regenerative products, the Knesko Mask Collections are an invigorating self-care solution. Hildegard shares her insights to beautiful Autumn skin, that is well prepared for the coming Winter, drawing inspiration from birthstones.
About Knesko
Infused with collagen and the influence of gemstones, the powerful masks and facial rollers from Knesko have a loyal and loving fanbase. Knesko bridges the results of science and energy of spirituality with their revolutionary GEMCLINICAL™ skin technology. Developed by a team of doctors together with a Reiki Master, each of these incredible gel masks has a powerful collagen serum and a selected precious gemstone agent to activate the Chakras and rejuvenate skin at a cellular level.
With Knesko, ancient and modern technologies collide for transformational results guaranteed to revitalize, brighten and hydrate your skin while healing the mind and spirit. The culmination of true beauty, inside and out.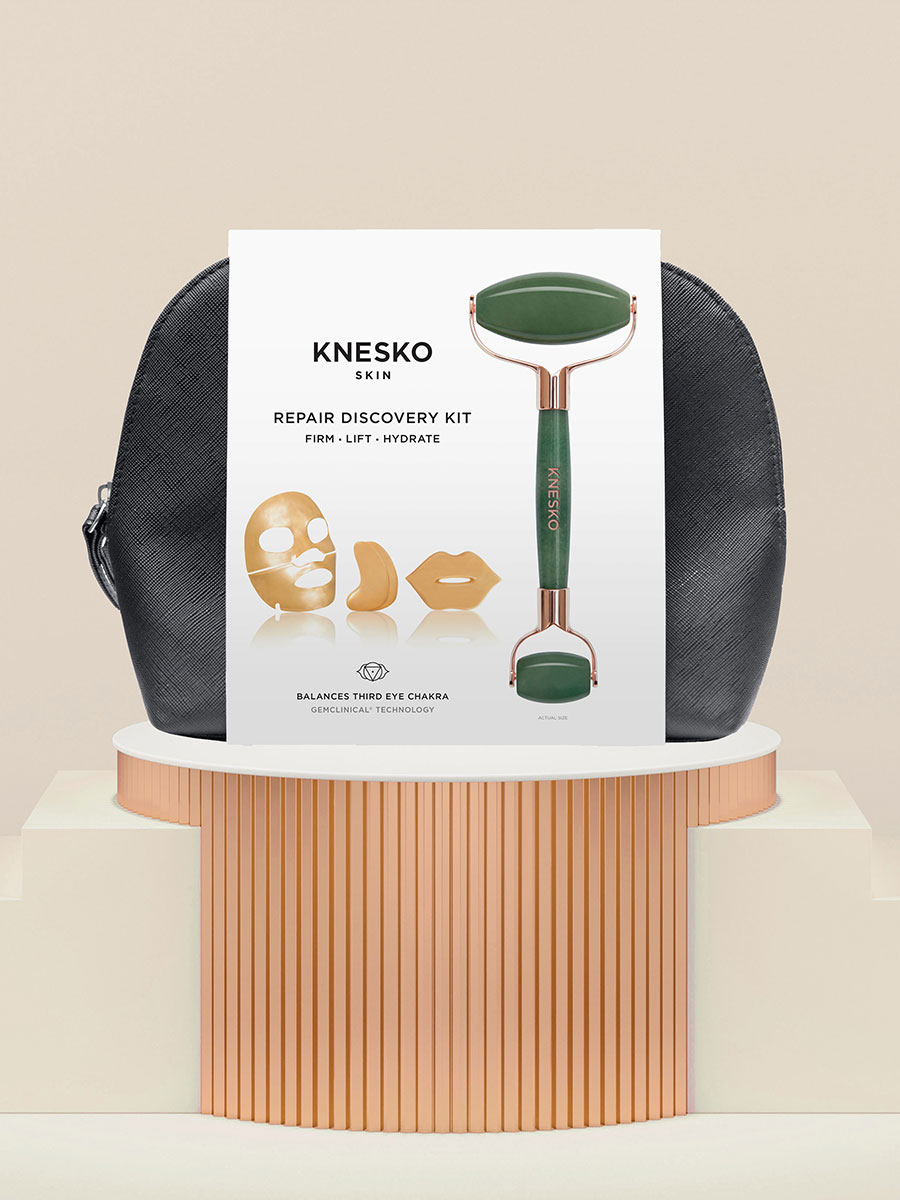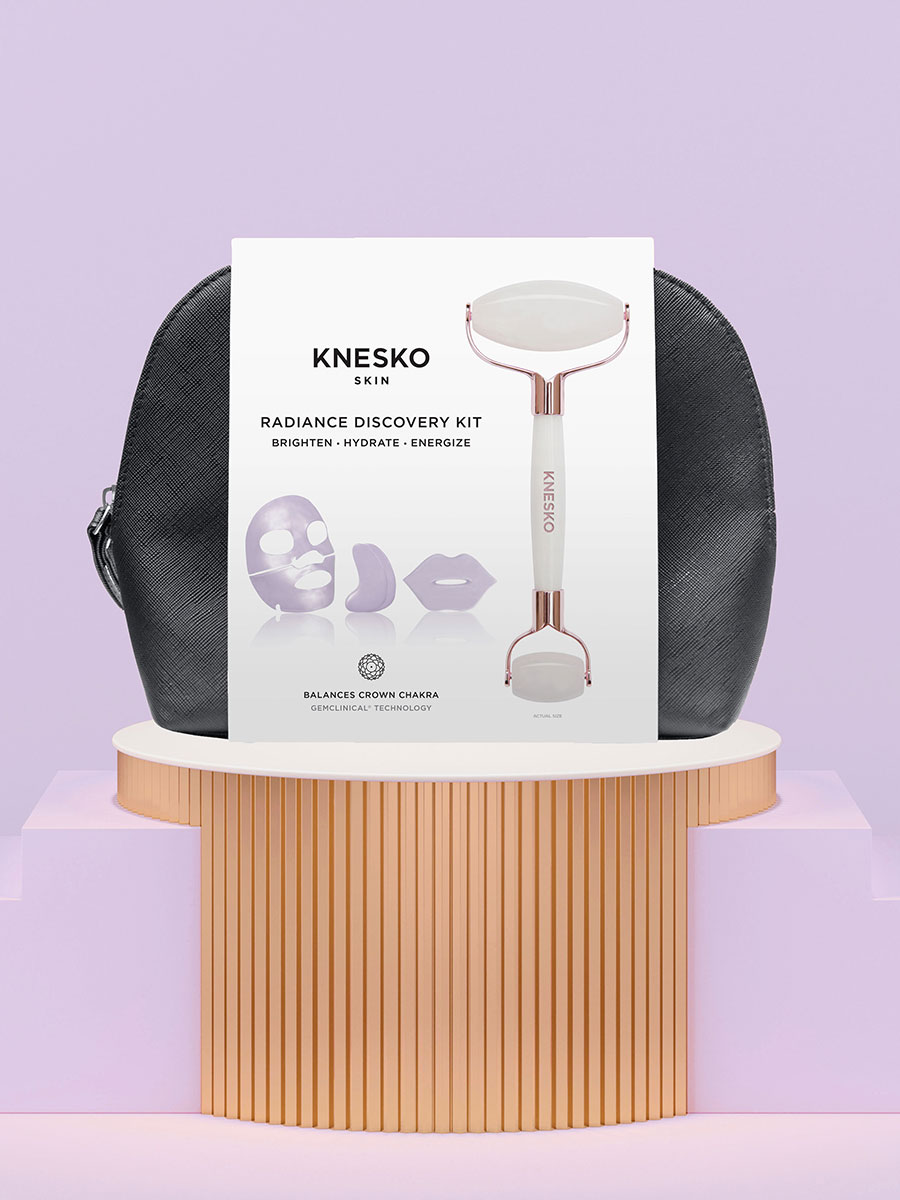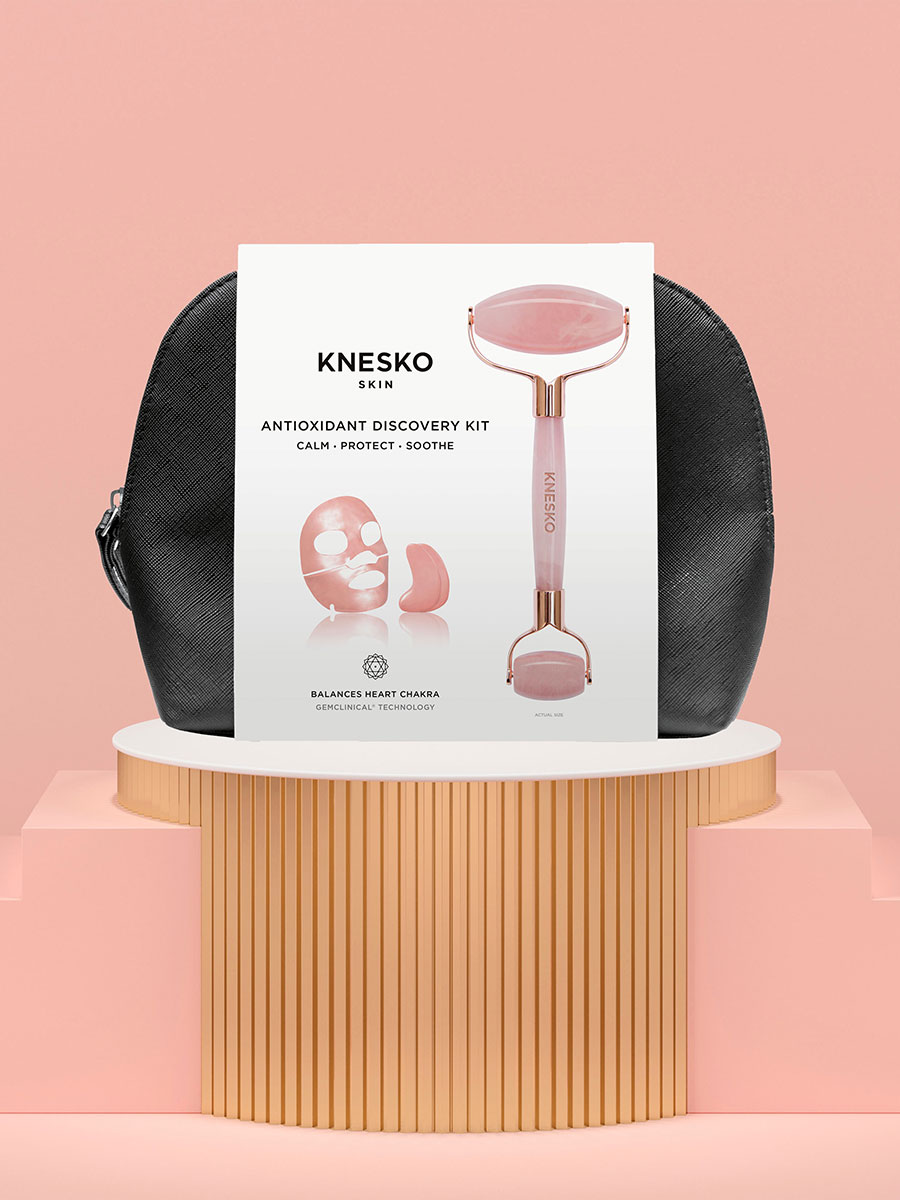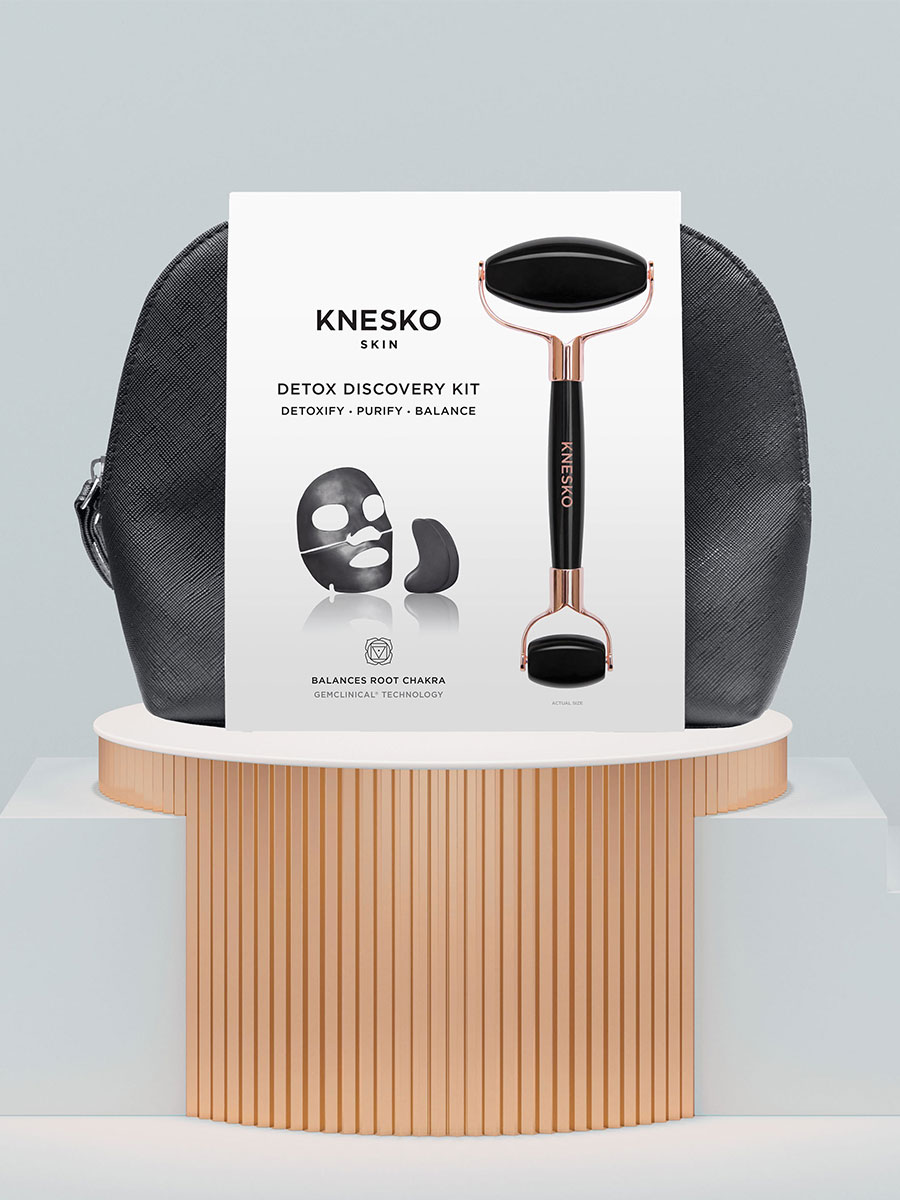 Find Your Knesko Mask Collection
Each collection comes with a collagen-rich face, lip and eye mask set as well as a gemstone facial roller. Each collection is infused with the energy of a different gemstone for age-defying and rejuvenating results. Find your perfect set…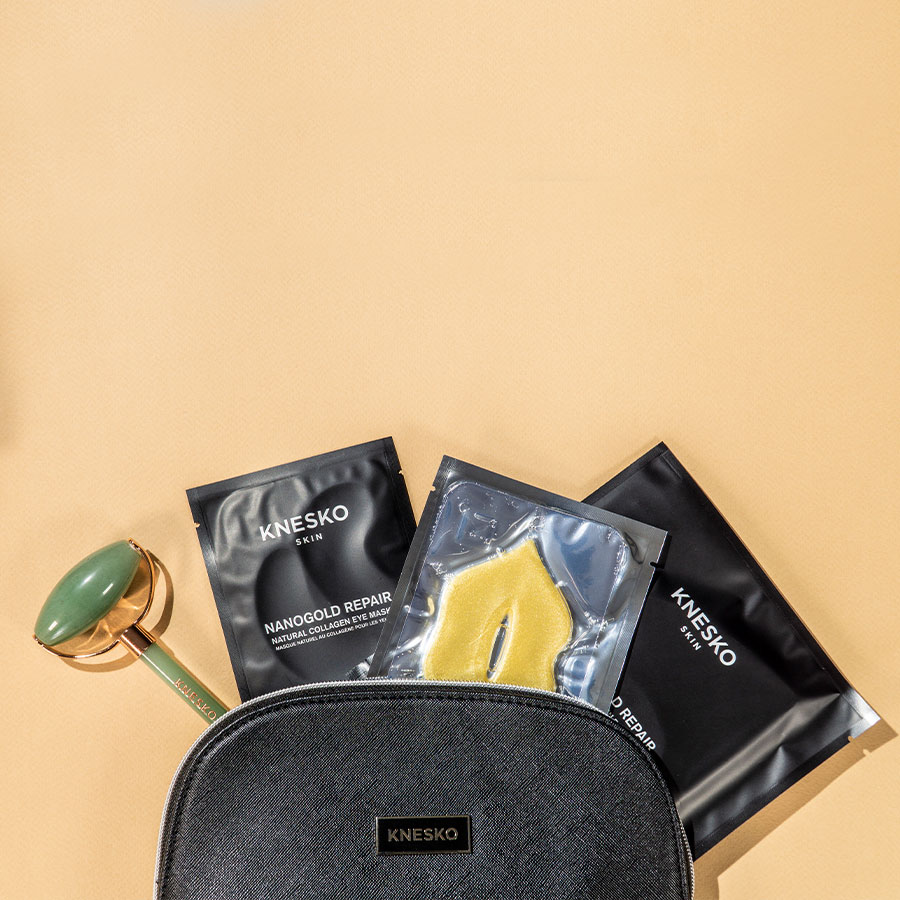 1. Nano gold repair collagen mask & green jade gemstone roller set
USE FOR?
Post summer skin, or after a big event
DESCRIPTION:
High-caliber skincare at incredible value with the luxe Nano Gold Repair Discovery kit. Not only will your skin benefit from the firming, lifting, and hydrating benefits of the Knesko masks, but you'll experience enhanced tone and definition courtesy of the included Green Jade Gemstone Roller. This sleek black pouch contains everything for skin + soul self-rejuvenation powered by the purifying effects of Gold and calming properties of Jade.
SKIN BENEFITS:
Repairing | Firming | Age-Defying | Lifting | Hydrating | Plumping | De-Puffing | Anti-Inflammatory
CHAKRA:
Heart, Third Eye & Crown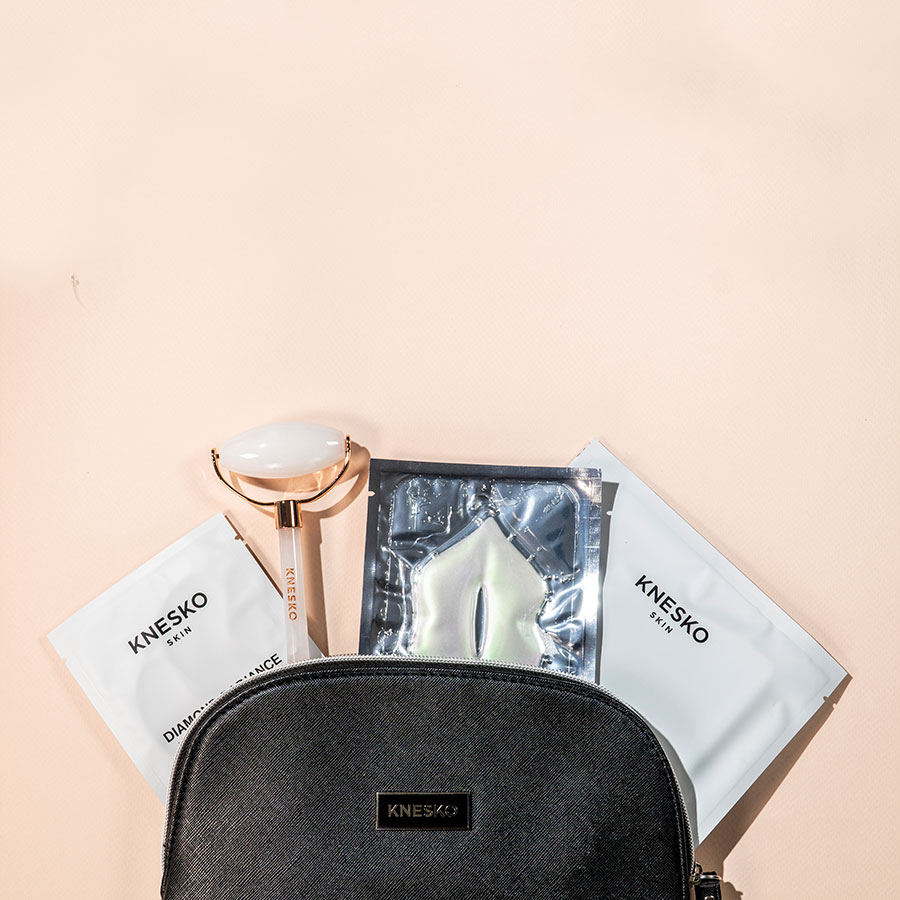 2. Diamond radiance collagen mask and white jade roller discovery kit
USE FOR?
Red-carpet ready skin! The ultimate glow…
DESCRIPTION:
For the perfect glow to carry you from Summer to Winter, try the Knesko Diamond Radiance Discovery Kit. Encompassed with the sleek black pouch is everything required for a luxurious diamond-infused treatment to encourage brightening, hydration, and energised skin. The face, eye, and lip masks, as well as the coveted White Jade Gemstone Roller, are a luxurious treat for the skin and spirit. The power of White Jade lies in its purifying and calming energy, combined with the master healing effects of Diamonds.
SKIN BENEFITS:
Brightening | Radiance-Boosting | Energizing | Hydrating | Age-Defying |Minimizes the Appearance of Dullness, Discoloration, and Dark Circles
CHAKRA:
Heart & Crown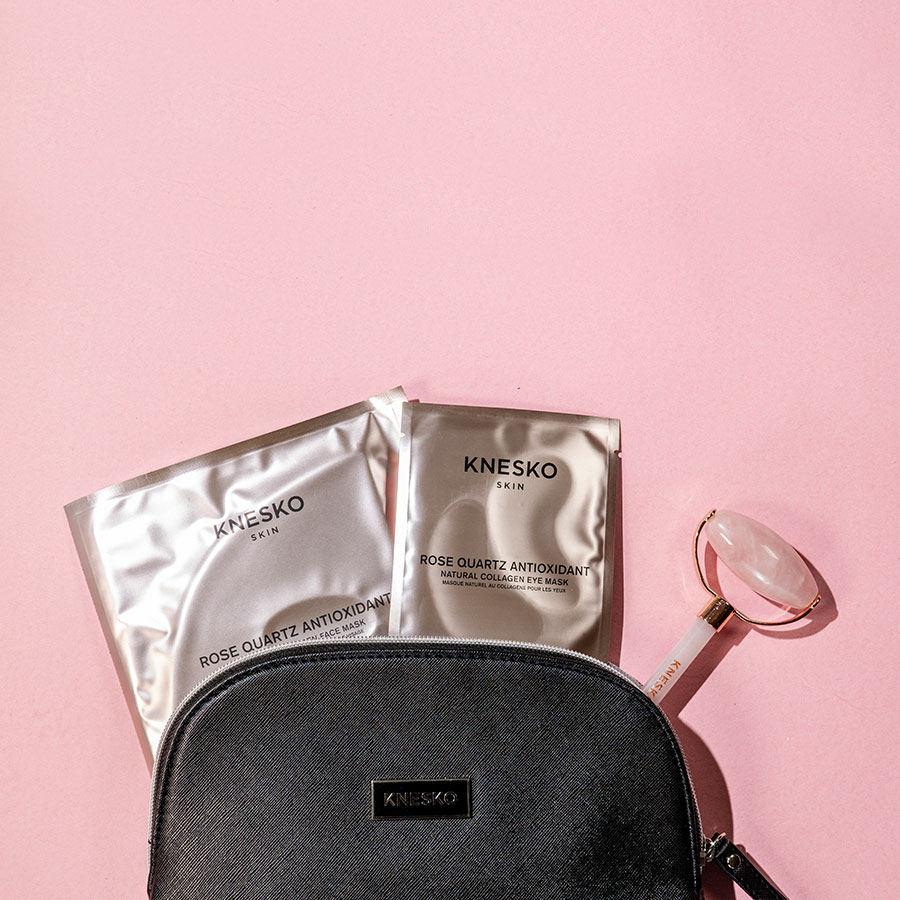 3. Rose quartz antioxidant collagen mask & rose quartz roller set
USE FOR?
Calming irritated skin and soothe sunburn
DESCRIPTION:
The power of love and selfcare energy is found in the Rose Quartz Antioxidant Discovery Kit. Explore everything required for the ultimate Rose Quartz-infused treatment, including the genuine Rose Quartz Gemstone Roller. Self-love and skin benefits go hand-in-hand with this calming, protecting, and soothing kit founded on harmony.
SKIN BENEFITS:
Calming | Protecting | Soothing | Brightening | Hydrating | Healing | Age-Defying | Nourishing
CHAKRA:
Throat & Heart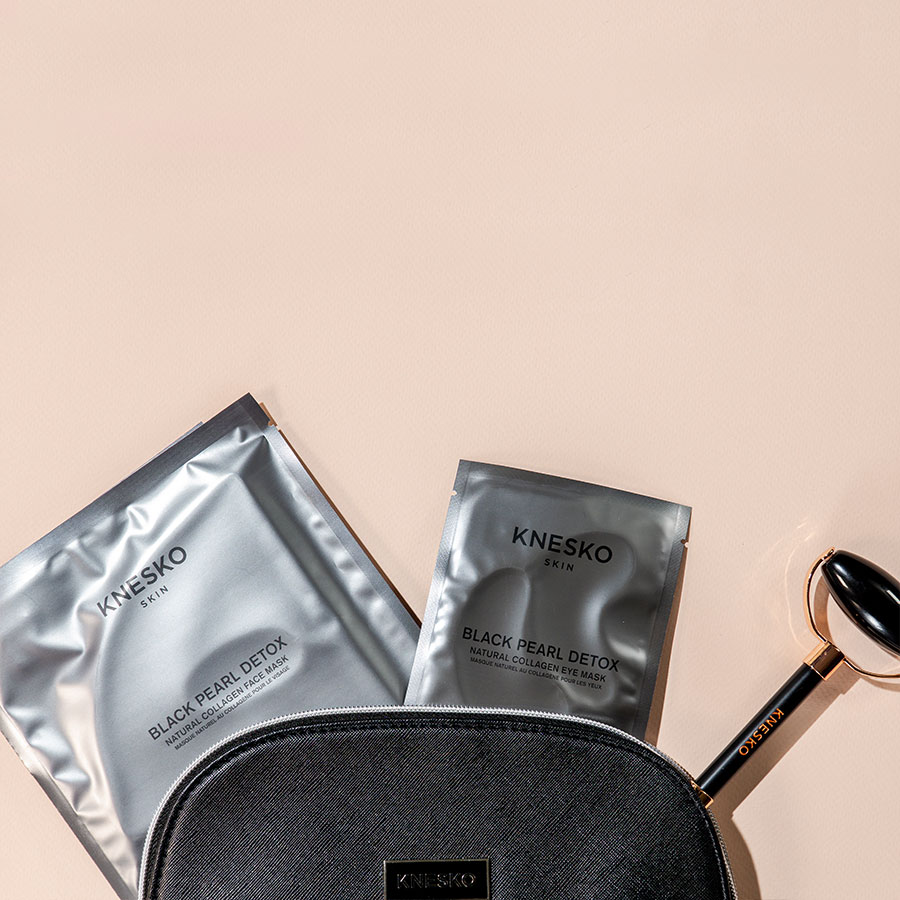 4. Black Pearl detox collagen mask & obsidian gemstone roller set
USE FOR?
Perfect for treating problem-prone skin
DESCRIPTION:
The ultimate kit for detoxification, the Black Pearl Discovery Kit has everything necessary for a spa experience in the comfort of home. Complete with the Obsidian Gemstone Roller, experience the grounding, protective and confidence boosting benefits this volcanic gem, combined with Black Pearl's ability to bring back brightness and ward off evil.
SKIN BENEFITS:
Clarifying | Purifying | Balancing | Pore-minimising | Anti-Inflammatory | Hydrating | Exfoliating | Age-Defying | Helps to Counteract Environmental Stress and Toxins
CHAKRA:
Root & Third Eye