Introducing Kayla-Ann Osborn
Delaire Graff Restaurant's Head Chef
Meet Head Chef at Delaire Graff Restaurant as she reveals the inspiration behind her world-class cuisine.
Overlooking the Banghoek Valley and its picturesque vineyards, Delaire Graff Restaurant specialises in French-style bistro chic cuisine in an airy, double-volume space that leads outdoors onto a terrace with scenic mountain views. At the helm of this beautiful restaurant in Stellenbosch is Kayla-Ann Osborn, the Head Chef. While Osborn was first welcomed in March 2020, she was only able to get into the kitchen in October that year and begin her tenure as our first female head chef.
Only 29-years old, Osborn has made a name for herself as one of South Africa's hottest young chefs on the scene and joins us from The Chef's Table in Durban. Cooking from a young age and learning about food from her grandmother, Osborn was destined for culinary greatness. With the change of season and the enchanting blossoming orchards, fragrant herbs and nutrient-rich vegetables, Osborn has launched her new 5-course Set Menu.
Go on a journey of discovery, alive with fresh, fragrant flavours anchored by exceptional farm-to-fork provenance. Osborn has introduced vegan and vegetarian-friendly dishes to the à la carte menu, inspired by her love for fresh produce and sustainable cooking.
Guests can expect flavours of roast heirloom golden beetroot, local truffled gnocchi, and Cape Malay spiced pumpkin amongst others. All dishes pair beautifully with the Delaire Graff portfolio of exquisite wines, working harmoniously to present an unsurpassed taste experience.
Delaire Graff Restaurant is a firm subscriber to the ethos of seasonality, a phenomenon that is paramount in modern culinary circles. Osborn changes her menus frequently to correspond with the fresh produce she sources from the Estate's garden. She also keeps in mind the importance of regional ingredients, aligning with both international culinary trends by sourcing from local farmers.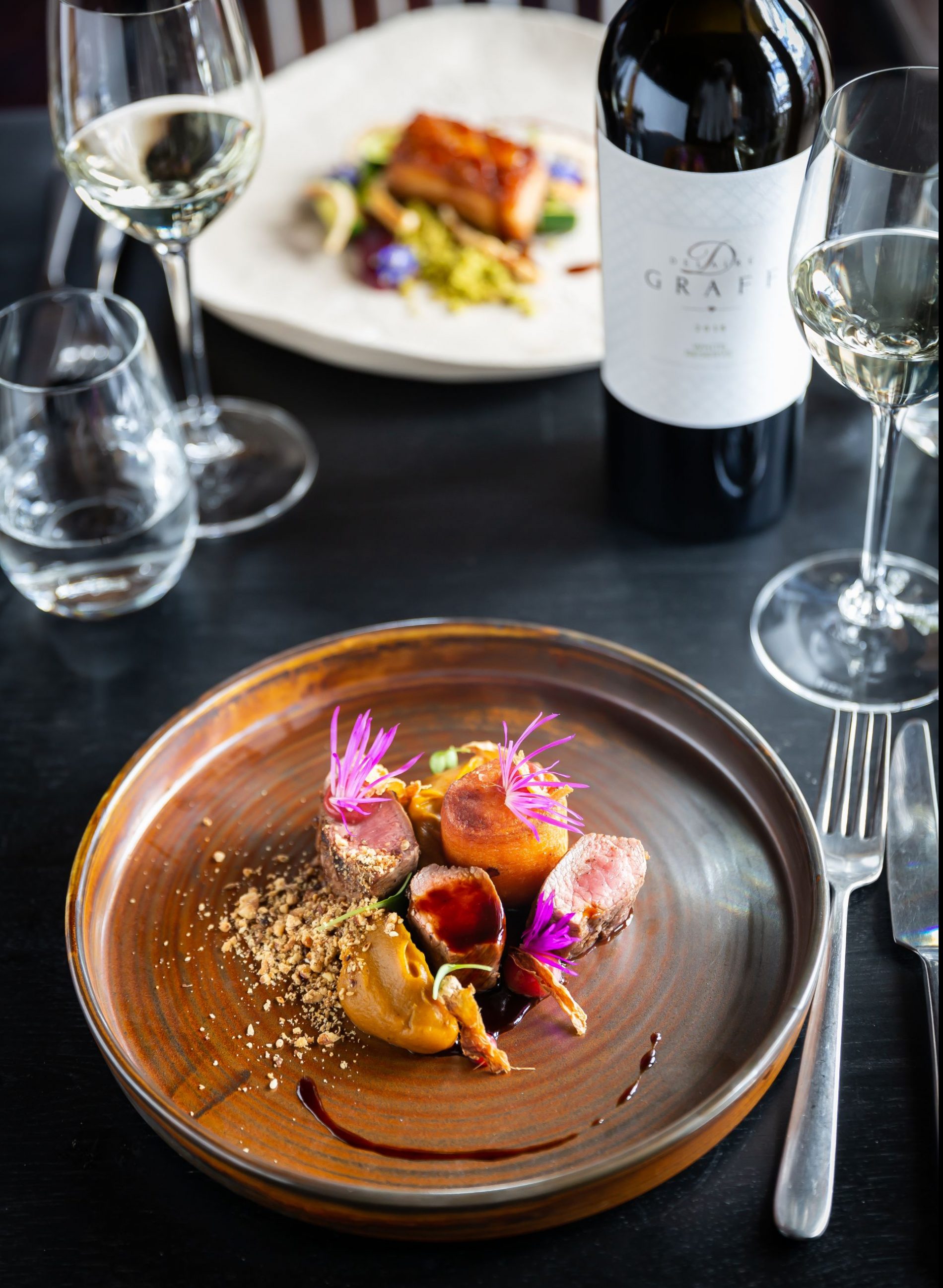 Q & A
What first inspired you to become a chef?
My grandmother is the reason I fell in love with cooking from a young age. I have vivid memories, from when I was around three-years-old, of her and I making the best chocolate chip biscuits. From that point I knew creating food was in my destiny.
Describe your favourite meal to enjoy at home?
A good old fashion Spaghetti Bolognese the way my gran makes it. A close second is a comforting Sunday roast with potatoes, vegetables, gravy; the whole spread. Nothing beats sharing a good meal with friends and family over a great bottle of wine.
What has been your favourite aspect of Delaire Graff Estate?
I have fallen in love with not only the beautiful location but also the talented team with whom I work. They have welcomed me with open arms and I know we are going to create exceptional experiences for our guests.
What is your favourite local restaurant for a special location?
My partner and I go to Waterkloof in Somerset West. We love Gregory's cooking. Another place we always recommend is Heng Sheng in Sea Point – this is an incredible place. While you are there, you have the feeling that you are in the owner's home. It really is quite special.
Choose your favourite wine to recommend for summer?
Absolutely our Cabernet Franc Rosé 2021, paired with the Pink Prawn & Melon salad is a phenomenal combination.
What can guests expect to find on the menu now that you're at the helm?
I try to keep my focus as fresh and sustainable as possible. I love seafood and am working with Abalobi as a supplier for the first time. I especially enjoy working with interesting or unused cuts such as chicken oysters or lamb belly. Ultimately, I enjoy creating dishes with flavour, that is sourced locally, and leaves people feeling good.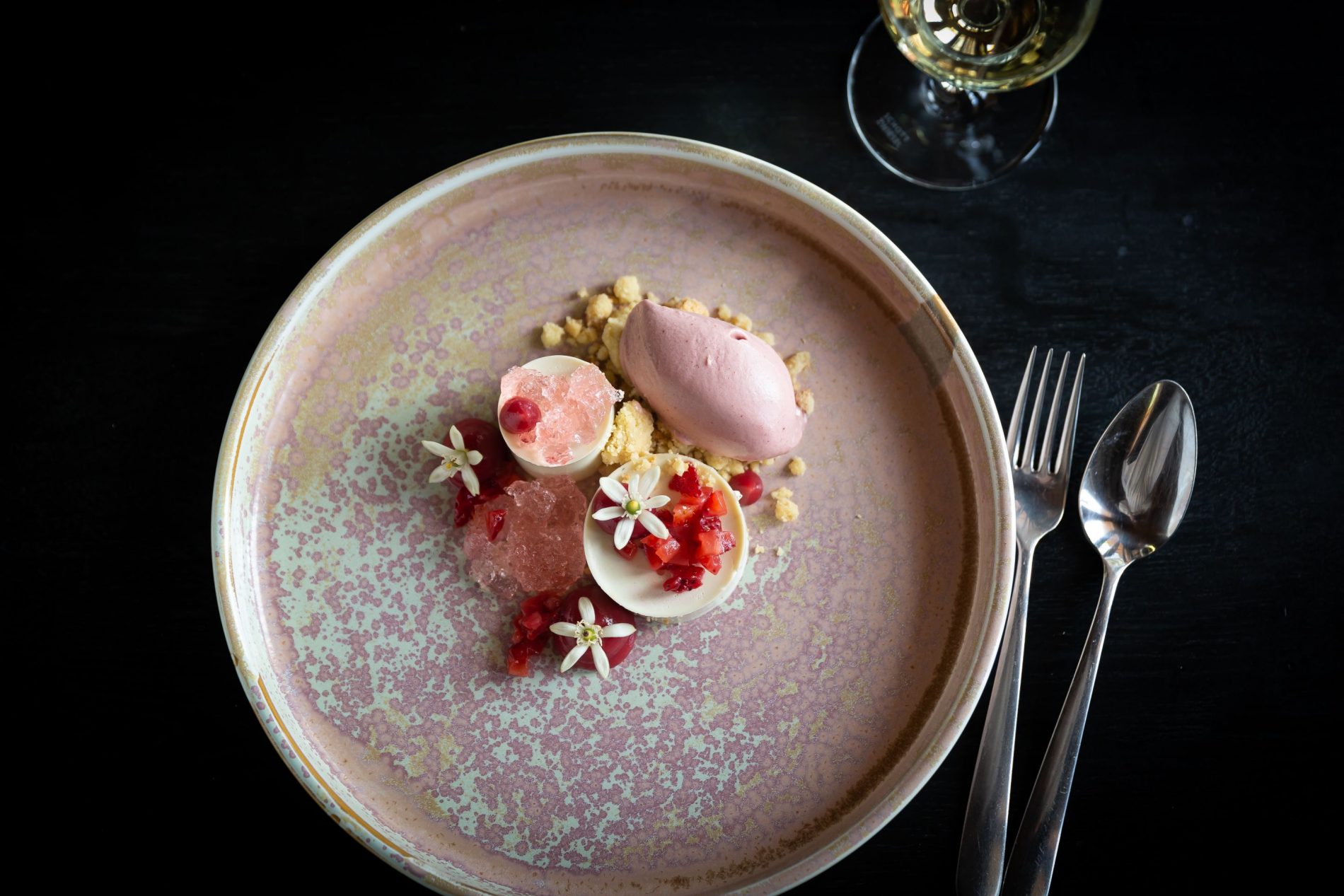 What is your culinary philosophy?
Your food is only as good as your produce.
What's your approach to sustainably sourced products?
We pick fresh produce from the Estate's herb, salad and vegetable garden fertilised by the on-site wormery. We choose to buy from small scale farmers and producers, but most importantly, instead of trusting labels, I get to know my suppliers and visit them each personally.
Sustainability doesn't only apply to food. I want my kitchen brigades' careers to be sustainable and to grow. As a team, we experiment as much as we can together. This job is a balance of repetition, consistency and creativity; we all need to feel creative and inspired in order to keep doing what we're doing.
What do you most look forward to?
I just love to cook.
Osborn's culinary philosophy is centered on an all-sensory dining experience. With meticulous attention to detail, she combines exquisitely balanced flavours and imaginative presentation in an exceptional setting at Delaire Graff Estate.
---